About this project
Update
The 2018 Minnesota Legislature passed a bonding bill that included additional money for Corridors of Commerce projects. On May 30, Governor Mark Dayton signed the bill into law. The funding takes the next Corridors of Commerce projects in line to be funded, according to guidance in state law from last year and this bonding bill. The selected projects will enhance the movement of freight and people in the regions where these projects are located, which will aid the economy and reduce congestion.
Highway 14 was among the three projects selected in this round.
This project will expand Highway 14 from two lanes to four lanes between Owatonna and Dodge Center, thus completing a continuous four-lane roadway between I-35 and Rochester. The proposed project is intended to improve the capacity, safety, travel times and access to Rochester. Highway 14 previously received more than $58 million in Corridors of Commerce funding for road improvements.
MnDOT District 6 has assembled a team to focus on this project with the intention to start construction in 2020. MnDOT anticipates letting the contract for the project in the third quarter of 2019. Additional details on the project will come out later in the first six months of 2019.
Segment 2 and 3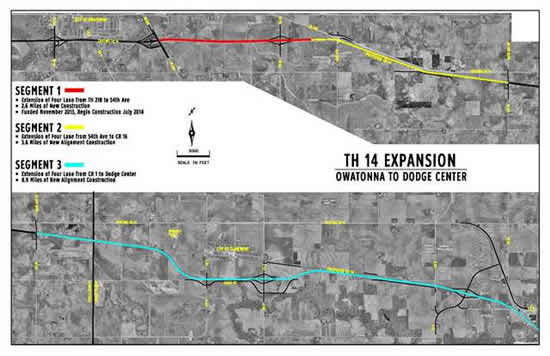 MnDOT has been working with property owners in Steele and Dodge counties on where the new alignment would go. Some properties have been acquired and many of the buildings of those properties were either sold for removal or will be dismantled or demolished.
The Minnesota Legislature is looking at proposals for further funding of the final two segments, but no funding plan has been approved at this time. See January 2017 Hwy 14 partnership presentation (PowerPoint).
Segment 1 construction complete
Corridors of Commerce funding
MnDOT completed an environmental study for the Hwy 14 expansion project from Owatonna to Dodge Center in fall 2010 with no funding identified for construction. During the 2013 legislative session, the Corridors of Commerce program was enacted. This authorized trunk highway bonding to be used for projects not already in the states' four-year State Transportation Improvement Program. In November 2013, a segment of Hwy 14 from the study was selected (among other projects) and awarded construction funding through COC. The selected project extended the four-lane section of Hwy 14 east, 2.5 miles from Hwy 218 toward Dodge Center and construction was completed fall 2015, reducing the four-lane gap to 13 miles between Owatonna and Dodge Center. Completing this connection was a priority for the department. MnDOT will continue to invest resources in pre-construction activities for reducing future cost and schedule delays and making this important interregional corridor more construction ready.