Quick Links
Construction Projects
Contact your local MnDOT district to get involved
Click on your region below for more information, or use this city listing to find your MnDOT district.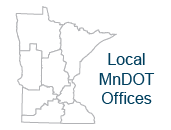 The long and winding road to construction
MnDOT seeks citizen input on transportation because Minnesota's roads and bridges belong to everyone. Public involvement opportunities exist at every phase, from planning through construction. MnDOT also strives to keep the public informed about how changes in a construction project may impact their daily lives. Look for articles and notices in your local news media.
Contact your local MnDOT district to get answers to questions such as:
What is the long-range transportation plan for my district?
How do I get involved in transportation planning in my area?
Whom do I call if my house is being purchased by the state or to find out if my property will be affected by new construction?
How do I find out if a specific construction project will affect my business or neighborhood?
Whom should I talk to in order to report a pothole or to find out when a road will be plowed?