Portable Counter Borrowing Program
Why
Freely available and easy to install, MnDOT's portable counters work around the clock to collect data without concern for weather, climate, or daylight. The subsequent pedestrian and bicyclist count data is an essential tool for capturing seasonal trends, augmenting manual counts, communicating with stakeholders and the public and much more. This knowledge leads to data-driven decisions that inform project planning and impact the implementation of safer and more convenient walking and bicycling facilities.
Who and where
Partner agencies, such as cities, counties, metropolitan planning organizations, regional development commissions, and active transportation advocacy organizations can borrow the automated short-duration counting equipment. Currently, MnDOT maintains eight sets of portable counter kits located in each of MnDOT's eight districts.
Things to consider
Why are you counting?

Conducting counts before and after construction projects
Areas with free-flowing traffic such as road or trail segments and not intersections
Surrounding land uses (e.g. residential, commercial, green space)
Nearby people generators (e.g. schools, grocery stores, apartments)
Installing for a minimum of 7 days to capture a mix of weekdays and weekend traffic
Personal safety for all (e.g. personal protective equipment, flashing lights, allowing people through the count site during installation, signage, taping down the tube entirely as needed, etc.)
Equity when identify sites, underserved areas and community needs for data. Be aware that counts may not be representative of movements within the community the site is located.

What data are you interested in collecting?
Where do you want to count?
How will you make sense of the data, use it and share it?
Using our portable counters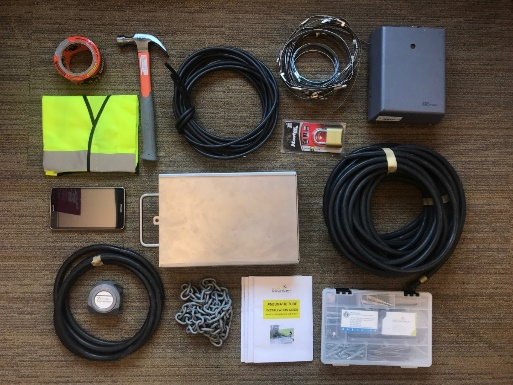 Notify the appropriate local road and governing authorities and obtain permission to conduct automated counts on the facility you plan to count.
Fill out and submit a checkout form. Your local equipment host will review your request and notify you soon after.
If your request is approved, work with the equipment host to pick up the counting kit.
Install the counting equipment at your approved site.
Preform a validation count to ensure the counter is working properly. A short observation period of A short observation period of 15 to 30 minutes (or until 25 total counts are obtained) is sufficient. If bicycle volumes are low, staff can trigger the counters by riding a bike across the path of counters several times. Use Eco-Link on the included Android tablet to validate that counts are being recorded successfully. Repeat at each new site.
Take pictures of the installation from a couple angles and note the cardinal direction(s) people travel.
Inform local maintenance crews such as street sweepers, plowing and lawn care crews of the count location so they do not disturb or damage the equipment.
Return the portable count equipment to the host by the agreed upon date.
Fill out and submit a return form.
Installation
Each kit includes one Eco-Counter Pyro, one Eco-Counter Tube counter, installation manuals that are quick and informative reads, one tablet to connect to the counters via Bluetooth, basic tools and hardware, lock and chain, and a safety vest.
The Eco-Pyro Box and Mobile Multi Box uses infrared to detect and count someone passing by at a path, trail, or sidewalk. For best results, avoid locations with reflective surfaces, places people congregate, and where automobiles will trigger the counter.
The Eco-Tubes detect and count bicyclists riding over the tubes placed perpendicular to a bicycle facility. For best results, install at along flat and straight segments. Watch these videos to learn how to install the tube counter in the roadway or on a separated facility. Watch this video if you're doing the tube install with a Mobile Multi.
To watch a recorded installation training hosted by MnDOT's Count Program, click here.
Places to avoid
Areas where people gather or wait (e.g. benches, intersections, maps, lookouts, crosswalks, etc.).
Events such as fairs, races, farmers markets, etc. Try to capture typical traffic flows unless it's your expressed intention not to and you are transparent with your decision. If that's the case, make sure traffic maintains consistent flow at the site chosen.
Locations where an installed Pyro Box counter will point towards motor vehicles (even at 100ft away, heat signatures of cars look the same as a human's), waving branches and grasses, slopes and curves, reflective surfaces.
Concrete surfaces as it's much more difficult to affix counter tubes than in asphalt.
During installation
Park any supporting vehicle nearby but off or to the side of the facility you will be counting on.
Keep all tools and equipment to one side of the facility so that users are not impacted and have free flowing access.
Wear appropriate personal protective equipment and high visibility apparel (a reflective vest is included in the kit).
Take photos of each installation to allow follow-up counts to be installed in the exact location and with the same counter orientation. 
Now that you've collected all that data, how should you use it? Find some guidance by watching this training video on data storytelling!