About this study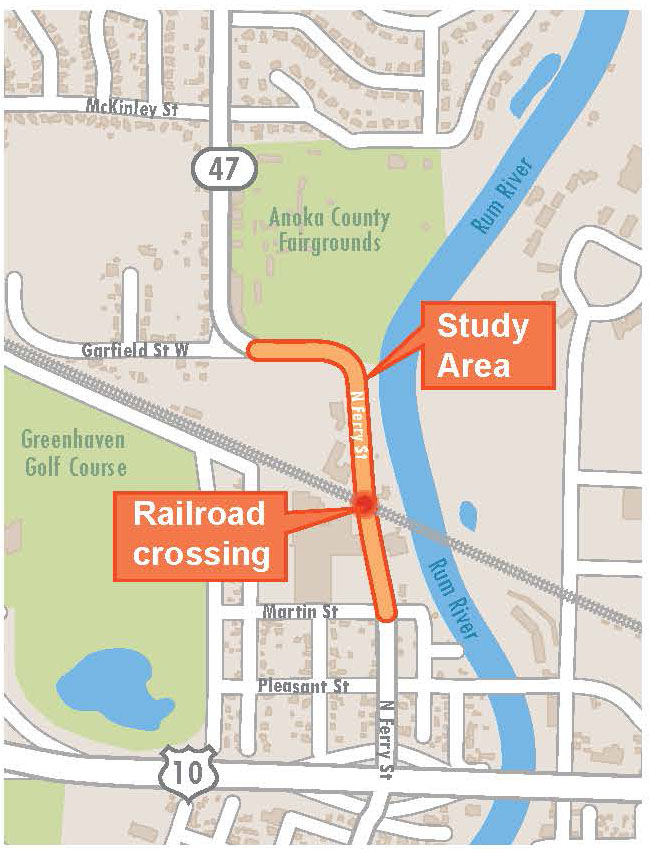 Proposed Hwy 47 (Ferry St.)/BNSF Railway overpass
MnDOT completed a study of current safety issues at the Hwy 47 (Ferry St.)/BNSF Railroad crossing in Anoka in 2016. The study recommended separating the highway and railroad crossing north of Hwy 10. A separation between Ferry St. and the BNSF Railway would improve safety for motorists, pedestrians, bicyclists and trains. It would also improve regional mobility and emergency responder time.
Study goals
MnDOT studied the benefits and impacts of two main alternatives: a bridge over the railroad tracks or a tunnel beneath the railroad tracks
The study identified one possible solution as a multi-span, two-lane bridge with a mixed use trail on Hwy 47/Ferry St. over the BNSF railroad tracks.
Project schedule
Currently not funded. Future analysis will determine if the bridge will carry two or four lanes and consider various alignments of the crossing. MnDOT continues to pursue funding sources to design and construct a new separated railroad crossing at Hwy 47/Ferry St.
Final Report completed in 2016.